A new publication by Dr. Umberto Signori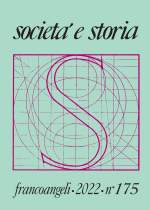 Congratulations to HCMH's post-doc and research fellow, Dr. Umberto Signori, on his article titled "Il consolato ereditato: possesso di un titolo veneziano di merito nel Regno di Napoli d'epoca vicereale / Inheriting consulate: Venetian title of merit in the early modern Kingdom of Naples" published in the journal Società e Storia.
This article proposes to examine the lasting possession and hereditary disposition of certain consulships. The essay aims to demonstrate that during the early modern age, the association of an immaterial and individual title such as the "merit" with the consulship conferred on the consular families a social identity that was heritable and extendable to the entire lineage.
In the coming months, the article will also be accessible via the torrossa website.